---
Once Upon a Canal, There Was a Boatbuilder…
The Story of David Piper Boatbuilding by Dorothy and David Piper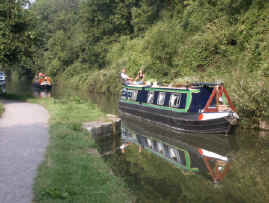 We went to Shropshire Union Cruisers at Norbury Junction in 1965. David was to work on the maintenance and running of the hire fleet as his main job and to develop the boatbuilding side as and when possible.
Shropshire Union Cruisers Ltd were a forward thinking family run company, run by John and Jenny Stothert. They ran an up to date fleet of newly built timber hire boats. We were delighted to work for them as it encompassed both David's cabinet making skills and his canal boating hobby. I had been trained as a shorthand typist and bookkeeper and as there was work for both of us, it was ideal.
Part of the fleet (to us, pride of the fleet) were some boats built by Len Walton of Oldbury, which were built of oak and elm in the traditional manner. They were super boats, in fact our first family boat, some years later was to be a Walton, but they were very slow to build and required high maintenance. The decision was made to commission someone to basically copy the hull design in steel and the first one was made by firm based on the Wolverhampton 21. The wooden cabin was to be fitted by David. This was done and the boat fitted out in time to exhibit at the Marple Rally of (I think, but it's a long time ago) 1966. The boat was named "Captain Cook" and was to be part of the SUC hire fleet. The interest from private boaters was amazing and production was started, buying in hulls with David fitting plywood cabins. "Captain Cook" was sold to Western Cruisers of Stratford on Avon , for use as a hire boat and another one was built to replace her.
A more reasonable source of hulls was found – a contact of ours in the Whaley Bridge area was able to set up production – I think, from memory, it was under the name of Starweld. At the same time a company called Dami Marine was set up at New Mills, on the off-side near the toffee works – another canalling friend of David's. (Just for information, nothing to do with SUC!)
One of the first private boats to be built was "Rose of Sharon" for Dr and Mrs David Owen and was moored up at Higher Poynton. David and Pearl were real canal enthusiasts and David was later curator of the Ellesmere Port Boat Museum .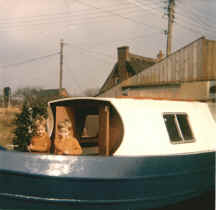 Piper twins on one
of David's early boats
At this time the hull retailed at £750.00, Dami Marine ones were £450.00!
Although the steel hulls were an amazing step forward, they were a very basic and very empty hull. David's next idea was, instead of building for'd wells and decks in timber, to build them in with the steelwork.
At this stage, David was more and more involved in the steelwork side of the business. Shropshire Union's main interest was obviously in their hire fleet and general boatyard, which was thriving well and now included steel hulled hire boats. David became increasingly frustrated with the growing hire fleet maintenance stopping him from developing his boat building ideas and eventually decided to go it alone in 1969.
We lived in a small cottage in Norbury village by this time. Money being a big problem, it was necessary to do various other work to build up some capital and the villagers were good to us. David beet-hoed, fitted carpets, did some work on the local donkey-rodeos as well as using his woodworking skills. I still did some part time work at SUC and with two-year-old twins, childcare was shared. Andy and Simon had their own workbench and grew up thinking the workshop was a natural place to be.
Eventually, with the help of the local blacksmith, we built some V bottomed cruisers. Harry Machin, of Holidays Afloat at Market Drayton was very helpful and co-operative at this time, as was Ernie Thomas, of Calf Heath Marina. Gradually we built a customer base for these boats and later for more traditional craft.
The next major development in the boat building trade was for fibreglass cabins. David was never very happy about this, but in fact a major stepping-stone was when Shropshire Union Cruisers ordered three small trad style complete boats, with fibreglass cabins, fully fitted. These three boats were the only ones we ever built using this method and were fitted out in our garage workshop in Norbury village. Many years later, when we were at Red Bull, we extended one of these and put in a new section of roof. The boat's still moored up by the winding hole at Adlington. I think it's called the Rochdale Hound.
David wasn't convinced that this was the way to go and eventually we managed to sell a traditional boat with a steel cabin. The trade were highly amused by this, they said it would run with condensation, be noisy and cold and generally thought we were quite mad.
This first boat was built for the Briggs family from Chorley . We can't remember the original name of the boat, but it was later owned by Dot and Tom Kelly, who used to manage Preston Brook Marina and is now known as Sam. It was recently advertised for sale at around £12,000, as a 1978-ish build, but in fact it was 1969/70. Other boats quickly followed, Beija Flor, a cruiser style for the Rawcliffe family, Dawn Piper for Philip and Joan Matthews of Mountsorrel, Otter for Philips friend who ran a hire fleet at Mountsorrel. These were cruiser style. Vulcan, built for Margaret and Norman Farrar was the first fully fitted all steel "Norbury" boat. They were a great success, didn't run with condensation and as each boat was produced, new ideas and adjustments were introduced. The little Sabb diesel engines were the engine of choice at this time.
Now to look for somewhere bigger to continue the tale..........
We actually had a small canal-side site at Gnosall, with a few moorings, which we used for boats in the finished stage, for trials prior to customers taking over, but the logistics of towing the boats from where we built them at Norbury through the extremely twisty lanes and under two aqueducts presented us with more than a few problems. David used to borrow a tractor from a local farmer and tow the hulls, but if you met a similarly wide vehicle (of which there were a lot of in the country) you had to take to the hedge bank with one wheel and the hulls regularly fell off, blocking the road. The council would not give us permission to build at Gnosall and we had to find somewhere else.
Actually finding a site both suitable and available was not easy, but eventually we found Red Bull. It was very overgrown. Coming along the top drive from the A34, the fence dividing us from the railway was on the right and on the left was quite a bank. The cottage where the house now is was down in the hollow. The level of the main floor of the house was about chimney top height on the old cottage. The basin area was completely filled with solid and walk-able on weed. Eddie Burgess of Constellation Cruisers at Higher Poynton had suggested the site to us, and I doubt if we'd have thought about it if it wasn't for him.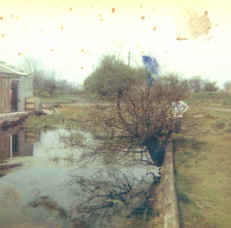 Red Bull Basin in 1972
We moved on to the site in March 1972, putting up a second hand poultry shed as the first workshop. Part of the agreement with BW regarding the lease was that we provided a slipway and a water point and these jobs, together with dredging the basin, were carried out first.
Andrew and Simon were five years old, and Tim just one month when we moved up to the Red Bull area and we bought a house on Mow Cop. We'd only been there a few months when the old gentleman living in the cottage died and we managed to buy the cottage and land, mainly on the bottom canal. Over the next few years David built boats by day and the bungalow by night, but by October 1975 we moved in fully. We'd had a lot of vandalism problems originally – the local kids had been used to having the basin to themselves and objected to us being there by demolishing in the evening what David had spent all day building but eventually we came to terms with this, although camping out in the workshop was sometimes necessary!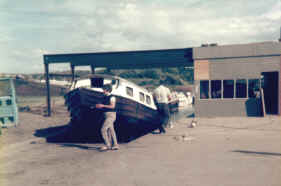 Slipway in early days
Most of the boats built around this time were around 30 to 35foot. One of the first at Red Bull was Nan Horon (the original Nan Horon) for the Jackson family. Leo was a 31ft boat, which we built for Roy and Barbara Dawson.. It's odd how you remember these things, but partly from the off cuts from Leo, we built a little cruiser for Brian Curry, which he called Friendship. Brian was an invaluable help to us at this time. We were also building boats for Yorkshire Dales Hire Cruisers, from Bank Newton, near Skipton. The power of choice then was the Sabb 10 – a brilliant engine, but only suitable for the smaller boats. As the demand for bigger boats grew, we started to fit BMC 1.5 diesels – quickly realising the advantage of the gallons of hot water and fitting calorifiers.
Dentdale, built for

Yorkshire

Dales Cruisers
Ideas came thick and fast at this stage and there were almost un-noticeable changes to the hull design to achieve the best in handling qualities and to improve the swim of the boat. A dry bilge was developed and because of this we developed the Piper sealed shower room, with the famous lift up floor. It was easy to do and very practical. We had our own boat and tried out various innovations and also had some really helpful customers who were happy to try various ideas – not normally anything very radical, but gently working forward. Most boats were built as shells, usually "de luxed" – which meant windows, doors and hatches, ready for fitting out. Gradually traditional style boats took over from the cruisers for private customers, although Yorkshire Dales and Dartline still had the cruiser style narrow boats. We did boats in kit form for Dartline for a while.
The built in water tanks developed from the idea of a self-draining for'd well. The area for'd was ideal for tankage and with a coating of water tank paint and a decent hatch for accessibility, this proved an instant success.
Rudders were a problem. The common design meant you had to reach through the weed hatch and undo two bolts to dissemble the rudder. This was quite a regular thing, but with the slipway we were able to introduce the removable rudder – a design still in use and a vast improvement.
In 1979, BW came up with the dreaded "standards" for hire boat construction. These were implemented in 1982. At this time it was not a consideration for private boats, but we all know what happened! David was very involved with the "nuts and bolts" of the Hire Bo at Standards, which were formulated from both practical building experience, and from the hiring experience of many APCO fellow members (our trade association the Association of Pleasure Craft Operators). Later, when it became necessary to have front ventilation, most builders simply fitted brass vents to the doors. We tried various methods, until the current design was developed, giving a neater and less obtrusive (and less draughty) solution, with great success.
Quite a few boats built in the 1970's had built in cool boxes under the kitchen sink unit. Until around 1979 a few boats had gas fridges, but they caused tremendous problems and had to be regularly turned upside down to get rid of air locks. 12v fridges robbed the batteries too severely. It became apparent that some modernisation of the generating of electricity in these new up-to-date boats was necessary and the introduction of this and an extra domestic battery, together with the lower use of electricity in the Engel fridge range solved all the problems.
We continued to implement new ideas, having our own family boat to try out more radical changes and space saving ideas. Traditional boats with side doors and cross double beds, giving more comfort and width for the double berth, really caught on, together with solid fuel fires with back boilers to supply radiators, as the bigger boats became more popular. Yorkshire Dales Hire Cruisers amalgamated eventually with Rugby Bo at builders and they obviously took over their own boat building and we went into more private boat building, mostly complete boats. We built a few boats, in the later years, for Arlen Bo ats, a small hire firm on the Lancaster Canal .
These were built as shells and fitted out up there. The fleet is still in existence and are smart little boats. We also built the White Nancy restaurant boat, run from Bollington Wharf and a couple of trip boats.
Simon and Tim came into the business with us, although all three of our sons were very involved in the yard from a very early age, particularly with bottom-blacking and serving diesel.
Maybe we were lucky to have been in at the beginning of the modern boat building developments, at a time when David's talent for recognising a potential design could be put to use. To a certain extent, demand allowed us to "choose" our customers, in the nicest possible way. If David didn't think an idea or layout would work, he would say so and he would rather lose the order than build a boat that he though would be lacking in re-sale value, or that we couldn't be proud of. Only one or two got through the net, in his less vigilant moods! We have had some super customers, many of whom we are still in contact with and made many friends in the process.
A couple of years ago, we made the decision to move on. Simon was already set up at Biddulph, with Tim working with him, building bigger boats than Red Bull was suitable for and British Waterways made us an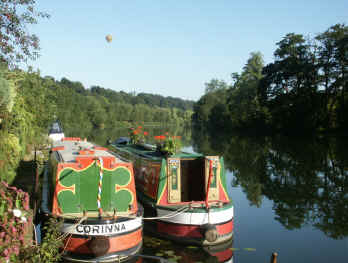 offer for the site – the wheel has turned full circle and in April 2001 we handed it back to them.
To summarize thirty three years of boatbuilding in one article is not an easy thing to do and leaves many tales untold but hopefully it explains some of our different and unique ways of tackling the problems as they cropped up. Any questions? Please feel free to ask!
You are welcome to contact the club for advice on any aspect of your Piper boat - some Piper-specific spares are still available.
email Dot
Owlet and Corinna on the Thames , 2003
Dorothy Piper 2004
---