It all started in 1974 when I hired Hornbeam, a 60' camping boat from Willow Wren Kearns. Ten pupils and two staff made their way to Wolverhampton and back from Middlewich. It was wet and windy, the canvas leaked but I was hooked. In the summer of 1986, some twenty-five weeks of hiring 65-70' boats later and half way through a two week school trip on a Teddesley boat we met a group of boats on a trip together at Colwich Lock. The owners of a 40'(?) traditional boat called Florrie were very friendly as they worked through the lock. I found myself asking what it was like owning a boat and Mike Molyneux was very enthusiastic. As we left the lock a very severe looking woman was surveying the scene from what appeared to be a traditional working boat called Gradeley. She didn't seem to be pleased with the progress being made by the others. My first sighting of Dot! Little did I think that, two weeks later, I would be talking with Simon about the purchase of a 60' shell.
My parents had been visiting me at the end of the holiday and commented that I always seemed very happy and relaxed after two weeks on the canals and that I should consider buying myself a boat. With the offer of financial assistance from them it seemed a feasible proposition and we found ourselves visiting three boatyards.
The first was at Red Bull. David and Dot were still away and we were greeted by Bernard, who was busily sanding a piece of upstand on a settee back. The quality of the woodwork impressed me considerably. He sent us to see a 52' boat just completed as a fully fitted for John Jones, Lady Ellen, and we were invited on board by the proud owner, little thinking that one day I would own a boat of that quality. This friendly approach was to prove to be typical of moorers at the yard and over the years I have crawled over many boats with a tape as I measured various layouts! I was immediately impressed with the layout and build quality but I knew that I could never afford a fully fitted boat and to be honest, wanted the experience of doing it myself.
During the rest of the day we went to Stoke Boat builders and to Mike Hayward at Hoo Mill, both of whom had been trained in the 'Piper School'. This was at the time that his nephew, Jonathon Wilson was about to split away from Mike. When we returned home we agreed that we were most impressed with the Piper shell, and the look of the finished product. Three days later we went back and met a young Simon. He was a chip off the block and a good salesman. We were told that there was a cancellation of a hull due for delivery at Christmas and decided to proceed, provided that David was prepared to let us have the slot.
After two weeks on a plastic tub on the canals in Brittany we arranged to meet with David. His enthusiasm for his product was infectious as were his sound reasons for his style of fit out. He re-assured me about the one area which concerned me and that was, would fitters out be treated as second class owners? He explained his philosophy about the layout of hatches and windows and accepted my plan although he later changed the length to 59'. How many other builders would do that? He could easily have taken the extra money and said nothing. I photographed the hull as it was built and was impressed that David and Dot allowed me to work on the new shell over Christmas even though I hadn't paid for it.
I always liked the trust shown when you took items from the shop and it made fitting out something special. We were a big family, yes, as with all families there were the odd disagreements but everyone helped each other and looked out for each other. It was impossible to visit the yard without Dot coming out for a chat and Sundays were always happy social days. The yard hummed with activity.
On the first boat I did everything David and Bernard told me. Job number one; apply three coats of bitumastic followed by battening the sides and roof and ballasting the floor. It was so cold that the bitumastic took an age to dry and you stuck to the floor as you walked on it. You soon learned that there was a reason for everything and you ignored advice at your peril.
I was very jealous of those owners who had their warm fires and completed boats during the very cold January and February. I was moored in the basin next to Ray, Peggy and Melanie Cox who were fitting out their second boat called Pippin. Ray worked for Cadburys and kept us all in Kit Kats! They would come over from York each Sunday and arrive about 7am. He had the
advantage of a part fit out.
I well remember the joy one Saturday as I arrived and inspected the bulkhead that Bernard had put up in the bathroom. This was one of the few jobs that I ever had done for me on any of my boats. That day the upper part of the shell was lined with polystyrene and the change was magic. The shell became light and much warmer. I have always derived great pleasure from fitting the tongue and groove and ensuring that it has the joint exactly along the centre of the ceiling.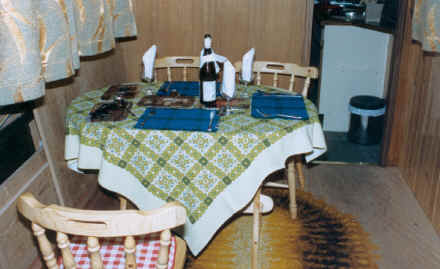 I valued the support given by so many. Each Saturday lunchtime Bernard would inspect the work and leave the inevitable pile of cigarette ash. He was so helpful and often lent me his tools, and all he asked in return was for pencils! Tom and Marjorie, the visionaries behind the owners club were good company and made me feel very welcome. We owe them so much. As the spring and early summer progressed I reached the stage of the boat reasonably complete apart from the lounge. Dot let me use the paint shop during their break and I painted the boat. In her words in Pipeline, 'Malcolm has succumbed to the urge to cruise' and we went off for two weeks with a 'put you up' and my kitchen table as lounge furniture. Peter and Carol Allington, who had fitted out Emily alongside me were also cruising and we ended up trapped down the Caldon at Consall Forge by the floods in late August 1987. Great fun with the Black Lion just 100yards away!
For the layout I had settled a large bedroom, initially with bunks but later changed to a longitudinal bed, a large galley and ope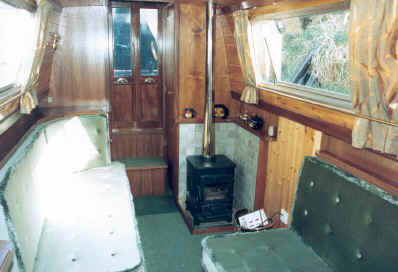 n plan lounge with two settees and a separate dining area. Many people advised against this but I loved the opportunity to lay the table and have somewhere to sit and drink before the meal.
It was a proud day when I was handed my Piper Builders plate J296 (J was for John the welder). When all said and done I was building a floating gin palace according to some of my friends! I am pleased that Gwynedd, now called Cailin and owned by Richard and Bridie Dawson is still part of the owner's club.
Sadly, I had overstretched myself and decided after a very uncomfortable two weeks when the temperature reached 99 degrees on some days to put the boat up for sale. I received a very good price, wiped out my debts and a few months later ordered my second shell. There was no question of who would build it and so it was that at the start of May 1991 Nobby was launched as a 49' shell. I started yet again with the statutory three coats of bitumastic. I realised that my parents were not as fit as they used to be so a shorter boat made sense. I based my layout on Ayton, Sue and Eric's previous boat, which I had always admired. Much fun was had fitting out with Tony and Judy who were building Black Bess and Stan Pye who was working on Molly. They kept cheating by getting jobs done for them!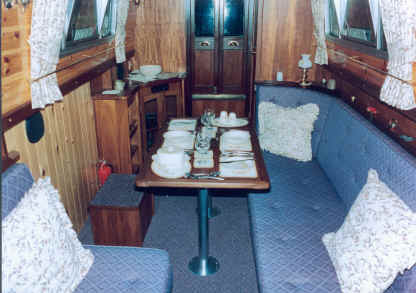 I decided to put the fire against the galley bulkhead as I wanted the source of heat to be more central and to reduce the pipe runs for the central heating. The layout worked well and only varied from the standard Piper in that I used a purpose built shower tray and changed the fire round.
Pressure of work and less agile parents restricted the use that I was getting out of the boat so I sold it and it is still owned by members of the club, the Drummonds, and called Wand. It is great to see that they have had so much use out of it. I feel quite chuffed that I have fitted out three of the boats in the current Owners' Club.
Having vowed to never own another boat, a colleague insisted that I go with them on their, new to them, boat to give them a few tips. I left the boat cold and miserable muttering that I was glad that I no longer had a boat. Seven o'clock the next morning saw me sitting in bed drawing sketches for a 40' boat. When I told my parents they just laughed but agreed that I derived a lot of pleasure from fitting out boats. This time I decided that I would look at several yards. Suffice it to say that after visiting two I was soon following the well trodden route from Wybunbury to Red Bull. 'Bloody Fool' was David's response when I told him why I was there, followed by his showing me some of the good work that Simon was doing.
About this time Dot and David were winding down to retirement and Simon was starting to build boats under his own name and away from the clutches of BW - the bane of the Piper's lives. Throughout the planning Simon was very supportive, thoroughly professional and produced a good boat. Long may he continue the family name for a quality product.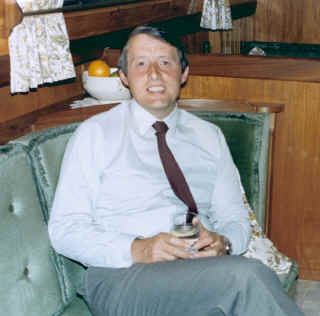 I settled for a 43.5' shell with several changes, much to David's consternation. It didn't stop him bringing potential customers round though! I wanted a lower gunwale and this was reduced by four inches which was added to the cabin height. It produced more of a tug style to the boat. This was one reason for moving the gas locker which is in the front of the well deck. The other was the location of the cooker which is much nearer the front. I also wanted recessed panels.
The boat had to be easy for one person to handle and it has not disappointed me. It is easy to steer even in wind and I can manoeuvre in the marina with ease. Two single beds affording central access from the stern were a requirement. Judy and Tony had used them on Black Bess and I liked the idea. To achieve this, the weed hatch is accessed from a lifting hatch on the counter and avoids the need to go through the side of the engine room. I gain more storage space as a result both in the engine room and under the berths. The bathroom is just that and larger than normal with the calorifier in an airing cupboard where the wash basin is on a traditional Piper. The toilet tank is built in the centre of the boat which avoids the change in transverse trim as it fills up, something which I found a pain in previous boats. Using a narrower calorifier I was able to stand it on the floor in the space not occupied by the toilet tank. I have a smaller tank but the boat is only designed for two people. I use the bath as a large shower tray although it is available for those who want a bath. I wanted a single hatch which could go alongside the bathroom saving some three foot. The galley is at the front and gives the cook a good view forward. This also avoids walking straight into the lounge and works very well. I then went even further with the fire and placed it in the centre of the boat against the galley bulkhead.
Sadly, I was virtually the only person fitting out; it was a far cry from the early days and very sad to see. Sundays were still a popular meeting time and there were several new faces but that same friendly atmosphere was still evident. People would pop their heads in the hatch and enquire about progress. I missed the help of Dad especially as I started to put up the tongue and groove. It took almost a day to get the first two pieces in place along the whole of the starboard side. I remember Cliff Allcock looking in just as my frustration had reached its peak and saying, 'maybe not the best time for a chat!' I used to give him off cuts for firewood which suited both of us as it kept the boat clean! With Ben, we had changed to sapele and I machined my own wood for the posts which I thoroughly enjoyed. Making the paneled doors was another highlight in the fitting out.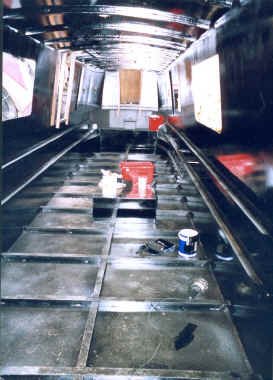 I am often asked about the name. Ben my Chree is Manx and means 'girl of my heart' which is rather apt. I have a great love for the Isle of Man and the ships of the IOMSPCo hence I have IOMSNBCo on the sides!
It has been pleasing to see that the layout and changes that I requested have worked well. It was a sad day for me when Dot met me one Sunday and told me that I was not to shout at her but they had sold to BW. Thankfully, the Piper name survives; I passed a boat, Piperella last Saturday at Ellesmere, even in the distance it was immediately recognisable as a Piper although built and fitted out by Simon. The owners keep it in an immaculate state and it is further evidence that the family continue to produce the finest product on the waterways.
I would like to thank all those at the yard both past and present who let me crawl all over their boats and the moorers and fellow club members who gave me so much encouragement but especially Dot, David, Simon, Bernard, Tony, John, Howie and Liz (superb roses and castles) who helped me build my boats and taught me so much. I even used sapele left over from the boat when I fitted out, sorry rebuilt, my bathroom!
In trying to update the website, I re-visited this article. The decision of whether or not to remove it as totally out of date is not easy. On the one hand, there's virtually no do it yourself fitting out on this scale going on now, whilst on the other hand, Malcolm has captured the essence of how the yard was run during the 70's, 80's and 90's

The people mentioned in the article bring back memories too – Dot and Mike Molyneux have now retired from boating and are happily living down in the Malverns with a menagerie of sheep, Shetland ponies and hens, 'til the fox got them. I see them most years when I call in on my way down to South Wales.

Bernard went to work for British Waterways (another name from the past) when we retired in 2000. The Cox family eventually gave up boating and now live up in Bridlington, where I've visited them a couple of times.

Stan Pye is still around, Sue and Eric saw him a year or so ago. Sadly, Tony (of Tony and Judy) is no longer with us. Howie still works for the Piper family, up at Biddulph. Cliff and Liz – of the wonderful roses – have gone back to living on terra firma in North Wales.

So – I can't remove it. It stays!