KATHE II - THE BIRTH OF A PIPER BARGE – PART 1
First published in Pipeline - Summer 2008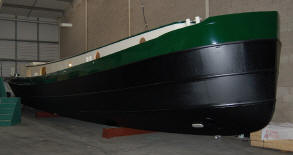 In this first article I will describe the process by which our 65' Piper Boats Dutch Barge was determined and the initial construction stages explained. Although the vast majority of PBOC members have narrowboats the layout and selection processes for a barge are similar (but on a larger scale) and PBOC now has a growing number of (Piper built) barge owning members.
Kath & I decided that for retirement (soon) we would like a complete change of lifestyle and because we both enjoy boating this would be an ideal opportunity to combine the two factors. The urge to travel around and relax is very strong but neither of us wanted to just lay around on a beach and we realised that by living on board a large boat we would be able to travel both in the UK (with some restrictions) and within Europe. Our two weeks spent with Pat & Angela Marks on their shared ownership boat in France in 2007 only served to reinforce our resolve to continue with our plans.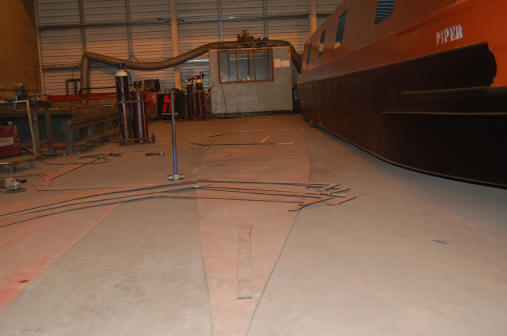 Why did we choose to go with Simon, well in 1999 he built our narrowboat KATHE and found him relatively easy to deal with as he was prepared to listen to our ideas - although not always keen to incorporate them - but more importantly he produced a solid, good looking boat that performed well and which we kept for 8 years.
We also agreed that the Piper-Branson barge design has produced a boat that looks the part, is well proportioned and there have been enough of them built to ensure that no major structural problems exist. I am aware of at least four of these boats that have been motored across the Channel and this also gives confidence regarding the capability of the boat. Another major factor was that we needed to be certain that with the level of costs involved (incl. our house) we were contracting with an established builder with company stability. Simon's continual product development and improvement also means that it is unlikely that there are two boats the same.
We attended the IWA festival at Beale Park in August 2006 and spoke to Simon where he was exhibiting his own barge LAGOM a 55' version with lots of extra features that improved the comforts of living aboard. We had a number of preliminary meetings with Simon to explore the costs, equipment, boat size and all the features that we would need to incorporate in the layout as this was planned to become our future home for at least ten years. Simon also allowed us to stay over a weekend on LAGOM in November 2006 and he travelled down to Reading on the Saturday and took us out on the Thames for a short demonstration cruise. LAGOM was featured in Waterways World in 2007 and had an excellent report.
We chose to have an aft wheelhouse arrangement as this would provide us with the opportunity to sit outside with friends on a back deck without having to climb onto a cabin roof. The original length of the boat was determined at 60' but due to an unforeseen change in family circumstances (we are now foster carers for our 10 year old grandson) the length of the boat was increased to 65'. Another requirement was a stainless steel water tank rather than the standard tank arrangement whereby the fresh water is stored in an integral bow tank. Having had an 8 year maintenance free stainless steel water tank in our narrowboat we were reluctant to accept a water tank arrangement that required periodic maintenance.
It was decided in 2006 that we would take delivery of the boat in October 2008 as there were a number of considerations before we would be ready to make the move – our daughter's wedding in 2007 being one of them. The long time gap between initial enthusiasm and the planned start of the build also acted as a cooling off period just in case we developed cold feet but even after some eighteen months we are still keen and sold KATHE in 2007 and our house is currently up for sale. Even the unexpected addition of a ten year old into the equation has not derailed the project.
The planning of the internal layout was not without its problems (compromises had to be made) because the needs of long term liveaboards are different from the casual or even medium term pleasure boater. As the barge will be used all year round good thermal insulation is vital not only for personal comfort but also to minimise expenditure on expensive heating oil. An added bonus of the extra thick sprayfoam insulation specified is that it should help to reduce solar heat gain in summer – if we ever see any. The boat has also been specified with double glazing throughout, specifically to minimise heat loss and condensation. The downside to this is that it will marginally add to the weight of any wheelhouse glazed panels that have to be removed for passing under low bridges – but this is a small price to pay.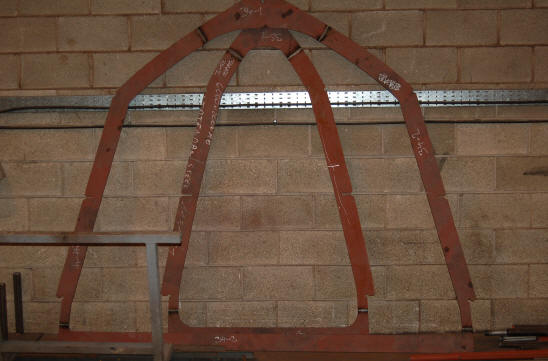 Reliable power supplies for living aboard are an absolute must as there are a large number of electrically powered support systems such as the flushing macerator toilets, grey water discharge pump, central heating circulating pump, fresh water pump as well as lighting etc. To meet these needs we have a 16A 230V shore supply, 4kW inverter supplied from a 1000Ah battery bank, 6kVA diesel generator and a 2kW emergency generator that can be plugged into the shore supply socket. In time, I may further investigate the use of solar panels to provide a trickle charge to the batteries; but I have previously outlined their limitations in a Pipeline article on battery charging – plus they look ugly on the cabin roof. Because the boat is large, we have also specified that fuel tank filling and sewage tank emptying facilities should be fitted to both sides to avoid the need to have to turn around unnecessarily - even if it were physically possible.
The oil fired central heating boiler will provide hot water as well as radiator heating throughout the boat and, in addition to the boiler, we have included an oil-fired Refleks stove for space heating and an electric immersion heater in the twin coil hot water cylinder. The need for back-up is essential as we have to rely on our own systems and electrical supplies when we are away from our mooring – and it is ever likely there will be problematical times when we are at the mooring.
The choice of engine was a by agreement between myself and Simon. A large boat such as this (that will be used mainly on rivers, coastal waters and eventually to cross the Channel) needs a lot of power to overcome currents, tidal influences and wind which can so easily drive us off our intended course. In the end we have settled for a Beta 120hp 6.7-litre 6 cylinder engine (based upon an Iveco block) coupled to a PRM500 gearbox fitted with a trolling valve. Why a trolling valve? Well, when we are causing havoc among boats moored at the side of the Loughborough & Nottingham canals (on our way to the Trent), or any other waterway due to the barge ploughing a big hole in the water, I can control the propeller revolutions below normal idling speed to try and avoid spilling someone's G&T or (more seriously) their boiling water. However this results in even less response from the rudder but the delicate use of the bow thruster should serve to assist with steering at very slow forward speeds.
Having finally decided upon all the main equipment I received an outline drawing from Simon and spent two days over the Easter period drafting out the interior layout. The arrangement that we have produced for our 65' barge is a combination of Piper Boats layout for their standard 55' and 60' versions but with some variations to suit our specific needs. The preliminary layout drawing was taken to Simon for comment and any tweaks that were necessary. Although it is time consuming I firmly believe it is essential that as many specific details as possible are agreed beforehand with the builder to avoid 'scope creep' and then debates over extra costs.
Construction of the boat started in late March 08 Simon having had to purchase the steel from Holland (well it is a Dutch barge) as the necessary plates were not available in the UK. This is an unfortunate reflection on the state of the UK steel industry today - but that is a whole different subject.
I shall continue this article in the next edition of Pipeline to provide an update of progress and some specific features of the boat. Later articles will describe our first experiences afloat with KATHE II and the first journey back to our mooring on the River Soar from the launch at Newark on Trent.
In late September, as the project nears completion, Kath & I shall be hosting an open day at Piper Boats for PBOC members so that anyone interested can view progress and see the boat in 3D.
By Peter Fairhurst
Return to Pipeline Index Continue to Part 2