Waiting for the Weather by Joe and Anne Chester
It's raining, and blowing a force 8 gale as well. But, of course it is – it's August, in London, coming up to a Bank Holiday weekend. Typical Summer weather, in fact! Since we got to London 5 weeks ago, there hasn't been a reasonable period of calm weather; and today's forecast is giving strong gales up to Force 10 in the Channel. We only need a couple of days of calmer weather to continue our journey down the Thames and across the Channel. But the weather gods seem determined to keep us here.


EssDeeAy, Simon Piper's latest 55' Dutch barge, was launched at Reading on June 24th. It was built in just 15 weeks from the first steel weld, and was delivered to us 2 weeks ahead of schedule. Launch day was a scorcher, an omen, we all hoped, as friends old and new came to wish us well.

The next few weeks were a mad panic, as we moved on board, at the same time as commissioning all the equipment. "The marina wants an address?", I was asked. "Here" I answered – for EssDeeAy is now our home. Friends came to visit regularly; actually they came every weekend, wanting to experience our guest bedroom, a novelty for us all. We also moved the boat around the marina a few times, just to see how it handled. Then one day, we awoke to bright sunshine and realised it was time to go.

The plan was to have a short easy run, just to get used to handling the boat. We decided to head down to Sonning Lock, buy a Thames licence, go through the lock and tie up on the moorings shown on the map on the other side. We are used to boating on the Continent, so were a little surprised to discover that the marked 'moorings' was a riverbank, without even a tree to wrap a line around. We moved on, doing some more locks and eventually tying up to the rings alongside the park at Henley.

In Continental locks, we would typically use a single line, tied amidships, or we would spring onto the lock side with the help of the engine. One of the things we quickly discovered on the Thames was that lock keepers insist on using a two-rope system, bow and stern. They also insist on the engine being turned off as soon as the boat arrives in the lock. This makes a hectic amount of work for the line handler, especially so if the lock keeper then insists on moving the boat forward a few feet to squeeze another boat in with us. So we quickly became quite exhausted!

The following day, we took the roof down. We had been warned that the bridge at Henley had a wicked twist, which had caught many boat roofs. So we spent the first part of the morning taking down the roof panels. This worked so well, that we were moving towards the dreaded bridge by 10am. When it finally appeared, we could see the paint scratches, and some deep scoring, under the centre arch. We were glad we had the roof down.

At Hurley Lock, there was a long queue. We were told the lock was broken, so we moored at the end of the line of waiting boats. We noticed some people all dressed up and working their way through buckets of champagne bottles.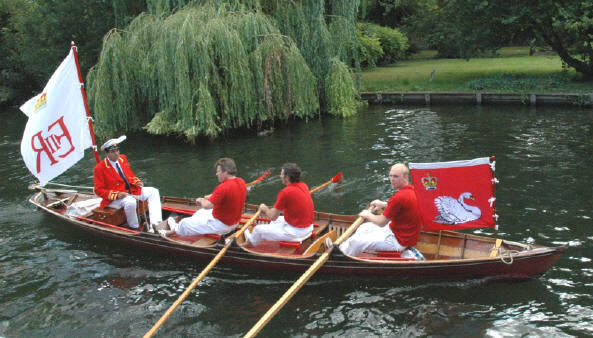 We couldn't see any obvious new boat out on a maiden voyage, except ourselves, but there was great toasting and bonhomie all round. When the lock opened, the first out was a skiff being rowed briskly by guys in red jackets, while a similarly attired gentleman acted as coxswain. Then we noticed that all the flags had swans embroidered on them – they were the Royal Swan Uppers, off on their annual duty, accompanied by a huge fleet of well wishers. We wondered how the swan tasted at dinner that night!

Our journey continued in search of a substantial mooring. We decided to ring ahead and see if we could get a marina berth. At Windsor we were given the outside wall; we tied up and immediately set to work to reassemble the wheelhouse. This was harder than we expected, possibly because we were tired, but we gently declined the offers of help, so that we would understand how it all worked. We then decided that we owed ourselves a treat, so we booked a table in the adjacent Oakley Court Hotel for our 'commissioning dinner'!

On our journey towards the sea, we passed DB Elessina, tied at her new moorings behind Bell Lock. We had a visit from DB Josephine in Reading, and tied alongside DB Etholle at Cookham for a chat. We also had visits aboard from the crew of DB Hilda May, and from DB KatheII. These are all Piper boats. We thank you all for your friendship, and for all your help as we built EssDeeAy, and got underway.
We reached Teddington a few days later. The long pontoon is positively Continental in construction, so we decided to lie alongside for a few days in order to work out the timing for the onward passage. This is complicated by the need to ensure sufficient depth of water through Syon Reach, an adequate air draft for Hammersmith Bridge (low water!), and an arrival at South Dock Marina within 2 hours of high water there. We were, at this time, also unsure of our maximum speed, and the power of the engine/gearbox/propeller combination (the Thames has a strictly enforced speed limit!), so we didn't really want to push against the full force of spring tide. We were told by various people, including the Port of London Authority, that the spring flood in Central London can reach 6 knots!

When we finally got to Syon Reach, we found rowers standing knee deep in the river to launch their boats just a couple of meters from the side of the boat! Slightly scary, but we were soon through, and doing a creditable 5 knots at 1100 RPM with the last of the ebb tide. Passing into Central London, with both banks lined with well-known landmarks, was all we imagined it to be. [Note: That's Brussels, Amsterdam, Berlin and now London!! – only 21 more to go!]

The scenery is stunning, the fast clipper ferries thunder past, and the trip boats churn up the water indiscriminately. As we reached Westminster Bridge, I looked at the GPS and saw the speed drop as if we had hit a wall – from 5 knots down to 1 knot in seconds! The tide had turned against us, so I pushed on more power, back to 5 knots again. We were being tossed about as we slid along beside the dark grey hull of HMS Belfast, pursued by trip boats and dodging ferries, when we finally spotted Tower Bridge. It really is a case of being too busy to enjoy the scenery. The speed dropped again as we approached the centre of the bridge.

I heard a slightly worried voice beside me say, "Oh look, it's just like the Rhine at Nijmegan"; this was a reference to a Sunday a year ago when we pushed our previous boat up the Rhine through the torrent flowing under those historic bridges. We added yet more power; it almost felt like we were surfing through the confused and breaking water. For the record, when I looked at the instruments, we were doing 4 knots (SOG) at 1800 RPM in a 30-ton barge against the full strength of a spring tidal flow under Tower Bridge. Magic!

The rest of the trip was almost an anticlimax. We arrived an hour later outside South Dock Marina, and after a quick phone call, we entered the open lock. There is a great community spirit among the people here; the supermarket is 5 minutes away, as is the Tube to the Central London or to Canary Wharf. We've spent our time finalising the storage of all our stuff, and getting to better understand the boat and its equipment. We also went shopping in Canary Wharf, and in Regent Street, we went to a wedding, and a garden party, and had more friends to stay over.

It almost feels like we have settled here; we appear to be waiting in vain for the weather to change in our favour. However, when we looked at the long range forecast this morning, we saw the possible arrival of a ridge of high pressure sometime this coming weekend, and a shiver of anticipation ran between us. So, if this news is maintained over the next few days, our great Cross Channel adventure in our new home may be just about to begin.

Return to Pipeline Index