For the last 15 years, Sally and I have worked in the Snowdonia National Park at a residential special school which houses young people between the ages of 11 and 19. Our school's speciality is two-fold, in that we cater for both learning disability and high levels of challenging behaviour. Indeed, for a young person to end up in our care, he will have already exhausted his home authority's in-county provision and will have developed levels of disruptive or aggressive behaviour that they can no longer cope with.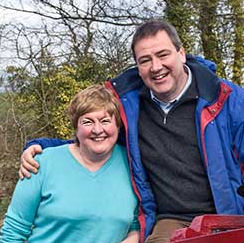 As a way of helping these young people to change their behaviours and adapt a lifestyle through which they can access the wider community, we strive to enrich their lives with 'normal' experiences that many of us take for granted: that's where boating comes in. We first introduced Boatcraft to our curriculum thirteen years ago, when we owned a splendid old, wooden bass fishing launch with an inboard Stuart Turner petrol engine. We would organise trips on a tidal estuary and we soon realised that this activity held something special for the troubled minds that we were working with.
A natural progression to our early Boatcraft was that we moved to a canal-based environment, principally for safety reasons, but also so that we could run the activity throughout the year and not be subject to the limiting factors of wind and tide.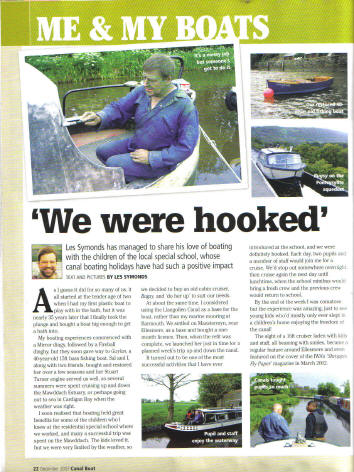 Click here to read 'Me & My Boats'
In December of 2007 we were featured in the 'Me and My boats' element of a national magazine, but this article concentrated on the way in which Sally and I had progressed to narrow boating, just touching on the work that we do with our students. This time, we want to concentrate on how boating has played a significant part in the lives of some of these young people. We pride ourselves in the fact that every student in our care, despite some very challenging behaviours, has been on at least one boat trip, whilst others visit the canal several times each season.

Our use of the canal began in the year 2000, when a small group of students worked with me to plan a brief holiday, where each of them could spend a night afloat. One of them wrote to a few local marinas asking for support through the use of a slipway (we had a 16ft grp cruiser in those days). Only one marina replied favourably, and we've relied heavily on their services ever since. It would be fair to say that their unstinting support and the way in which they welcome our students to all of their facilities has been one of the factors that has helped us to make Boatcraft the success that it has been over the following years.
So how do we measure that success? Well, I have never set out to make any formal, academic measurement of this: it's the smiles on faces and the rapport that we build with the students that tells us that something is working. However, there is one fact that speaks volumes. We occasionally have to write Incident Reports to record occurrences of inappropriate behaviour that result in violent, destructive or potentially dangerous situations. We've now carried out well in excess of 500 boat trips, and written only four Incident Reports, making Boatcraft the most successful outdoor activity that we've ever operated.
I should state at this point, that, working with young people in care, we're bound by issues of confidentiality. The names of each of the students photographed for this article have been changed, and parents have consented to the use of their photos and of my telling their story.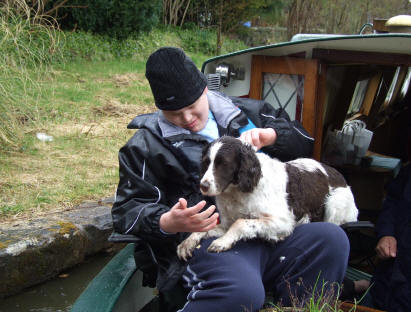 Gareth came to us a few years ago; he was a big lad even then and he had learnt to use that bulk as a means of getting what he wanted. Essentially he was a sociable person, enjoying meeting people and communicating with them. He has virtually no speech and he found it difficult to express his excitement in an appropriate way, so he either slapped or spat at people – if you were unlucky, you were subjected to both. Sitting out on the foredeck gave Gareth an excellent way of waving to people as they passed by, and of calling a muffled 'Hello!' to them, without the anxiety of close contact that caused him to resort to the inappropriate behaviour that usually accompanied such a greeting.
He loved the activity and, as his behaviour gradually changed, he even made it into the restaurant at the marina. This was amazing for a young man who hadn't been to a café for five years, who had never been to a pub or restaurant, and who lacked the sort of social contact that we all take for granted. Boatcraft was even used as a way of familiarising Gareth with staff from his new adult placement, who came on a boat trip with him one afternoon and it was amazing to see two relative strangers sitting on the foredeck with him, without a care in the world.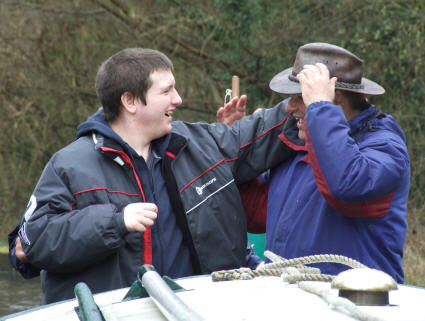 Next we meet Martin, who came to us when he was 16. He had formerly been living with support staff, but with no other people of his own age, isolated from the community due to high levels of aggression. Martin lived with us for nearly three years, during which time his aggression diminished and he began to access the community on a daily basis. His aggression had been so intense that he once demolished a whole set of toilet cubicles with his bare hands, even smashing the toilet cisterns. Martin learnt to communicate with staff about his anxiety and fears and as a result, he too began to visit cafes and restaurants. On the day of his first visit to the canal he accompanied staff, walking along the towpath towards Otter, but when he arrived at the boat he attempted to walk past in an attempt to shun the activity.
Autistic people sometimes fear the unknown (don't we all?) and our staff were clear in their minds that what Martin needed was support and reassurance from staff that he would probably like this activity if he tried it. For thirty minutes he wailed and protested, but there was a clear reduction in the anxiety that he showed. Soon he was smiling and eager to participate.
The smile on his face in this photo is testimony to how much enjoyed himself on the first of many visits that he made to the canal before he left us for his adult placement.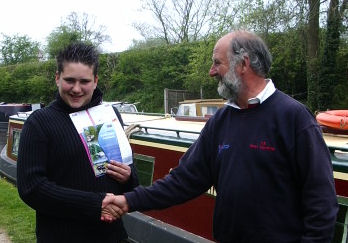 There are many such stories of our students overcoming tremendous difficulties in their efforts to play a more meaningful role in society, but few can be as rewarding for us as the story of Ian. Ian's learning disability was not as profound as many of the students we work with; however, his behavioural difficulties were such that he had been placed in secure care with us. He showed a great interest in working with us when we restored Otter, volunteering to undertake many of the less pleasant jobs, like scrubbing back the rust and cleaning the engine bilge. Not only was Ian good at getting the work done on the boat, but also he became skilled at driving and operating a boat in general. This we discovered before we bought Otter, when we were still using an old Dawncraft cruiser for Boatcraft. Ian appeared to be so skilled at driving that we booked him onto a two-day Inland Waterways Helmsmans' Certificate course, which he passed with flying colours. In deed, we believe that he is the first learning disability student to achieve this award.

Boating doesn't hold any magical cure for the difficulties that our students face, but it does offer them a number of things. Amongst these are exposure to the community and to other people with a shared interest, a chance to take control over a means of transport, the responsibility of operating such a large craft in a public place and finally…fun !