Living Aboard
It's a cold, grey Monday in February, when even the snowdrops are reluctant to open, having seen very little sun since they pushed through the ground. All sensible boat-owners, even those who spend several months of the year afloat, are living sensible lives in their centrally-heated houses, or wintering in warmer climes.
The less sensible among us look out gloomily at the orange waters of the Red Bull moorings, which the Coal Board are apparently considering turning into the normal mud-coloured liquid, and wonder if the lowered levels will be enough to take us up to Heritage Marina for our three-weekly pump-out.

A winter scene at the mooring.
There are probably as many ways of living aboard a narrowboat all year round as there are of living more conventionally, and this does not claim to be a definitive description.
Poling back through the ice to the services

at Lower Heyford

'So what's it like in winter?' people ask. It's a good question, and one which doesn't occur to everyone who suddenly has the idea of living on a boat. When I worked at a hiring-and building-boatyard, one of my duties in the office was to field phone-calls and visits from people, who usually had never been on a boat, enquiring about the possibility of buying a boat to live on. It was my job to try and, not exactly put them off, but to point out some of the realities.

I won't insult Piper-owners with the obvious questions I had to put to such innocents, such as 'Have you thought where you are going to keep it?' Clearly it's an important question, and much more so in winter, when the canal may be frozen and you need a pump-out, for example. So, we come back to the subject of winter. I have to say that, in 12 winters aboard, we have only once been frozen in for so long that it caused problems, and that was in that coldest of English counties, deepest Oxfordshire. Oh yes, we were moored at a working boatyard, but reversing four boat-lengths and across to the wharf took us three days of ice-bashing, and when we got there, the pump-out hose was being de-frosted with kettles of boiling water for us!
Even in more favourable weather, getting normal services can be time-consuming, especially if you have to move the boat to a water-point every week. Having a tap next to the boat is a recent luxury for us, as is mains electricity, which also makes life easier. Because all these things take time, it is very good if you can do without having to go to work, which is, I suppose, why most people wait until they retire to start boating full-time. We have had periods of one, both, and neither working, and whereas it would be very nice to be completely retired and be able to set off at a moment's notice, there are still bills to be paid.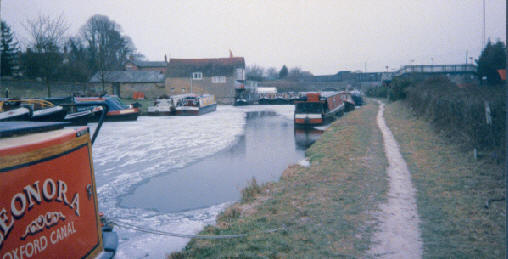 The route from the services to the mooring
As someone said to us when we bought the boat, 'You don't get many bills: you haven't got a letter-box, have you?' While this is true up to a point, and it is certainly cheaper than living in a house, when the unexpected bills come they tend to be quite large, as every boat-owner knows. In that sense, if you already own a boat, living aboard is not going to increase those amounts significantly, and you won't have a house to run.
Not having a letter-box poses the next question: how to get the post? One possibility is to pay for a P.O. box, which I think could be quite costly. It also means that if you are away cruising for any length of time, it would be difficult to get hold of your mail. We have had a succession of friends who have very kindly allowed us to use their addresses. When our present 'post-lady' offered, we told her that she might like to consider what happened to the first two: they both got married and had babies! The ensuing peal of laughter may have been because Pat was approaching 80 at the time, and so far she has escaped that fate!
The address you adopt can affect a number of things, the most important being health services. You can only register with a doctor if you live in the area covered by that practice, and naturally enough, they need the address where you actually live, in the unlikely event of having to visit you.
With other forms of communication now available, the mail is less important than it was, and even if you don't have a computer aboard, public libraries offer free use of computers, including of course the internet and e-mail, and now that they are less strict about residence, you can be a member of several different library authorities. You can also return books to different libraries within the same authority, so if you were to borrow a book or a map or a CD at Kidsgrove, you could return it when you get to Stone! At present we are members in Cheshire, Staffordshire, Warwickshire and Oxfordshire, so that covers quite a bit of the country.
You have to see the inside of our boat to know how important that is to us, as there is no TV, but there are enough books to ballast the boat. This brings us to the issue of space. One of the things which attracted us to our boat was the provision of book-cases and other built-in storage. Even so, a lot of pruning had to be done, and what finally sold our house was that the buyer asked if she could have our piano! There has been at least one piano on a narrowboat that we know of, but that was put in place before the roof was put on. So, if you are thinking of living aboard all year round, think about what you won't be able to take with you! And if anyone who has a house with lots of empty book-cases, we have several boxes of books looking for a temporary home – temporary, that is, until we tire of living aboard.
Win Wilson (Veritas). Spring 2006