It is now some 9 months since we took delivery of KATHE II in December last year and Kath and I have spent some considerable time adding the 'finishing touches' to the inside to make living aboard more comfortable.

So far it would seem that most of our early decisions (uninformed in most cases) on equipment choice have worked well and fortunately we have not experienced any major problems. Equipment failures have been few and far between and have amounted to a grey water tank level switch, Danfoss heating controller (more later) and the galvanic isolation transformer developed an internal short circuit necessitating a replacement.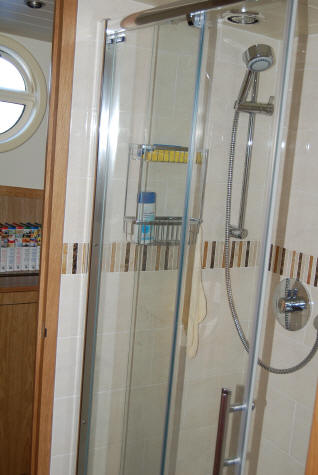 One of the larger areas that I needed to complete was the tiling in the shower room, galley and en-suite plus a small floor area below the table in the wheelhouse. I had opted to use a silicon sealant to bond the tiles onto the wooden bulkheads and white silicon to 'grout' between the tiles. The finished result is excellent and although this method gives a fully flexible and waterproof system the grouting operation is quite tedious as I needed to mask every joint before squeezing the silicon sealant between the tiles and finishing the joint by hand (finger).
Fitting the sliding door shower screen frame was also a challenge as the complete frame needed to be pre-assembled and then offered into position before securing the sides to the bulkheads. Although it was tight there was just about enough space in the shower room to allow us to do this pre-assembly work, however despite the hassles the finished result has been well worth the effort.

To date we have stayed on the boat for up to a week at a time and have been very comfortable every time. Friends and family have stayed overnight and they have been accommodated by converting the saloon sofa into a king sized bed and all have said it is very comfortable and quiet in the open plan saloon and galley. Some members may remember that we opted for mains operated fridge and freezer that have proven to be very quiet in operation with only a low background hum discernable. With only the fridge and freezer in operation (via the inverter) the battery capacity reduces by around 15% per day but as we are connected to a shore supply at our mooring this is not a problem and when we are away from the mooring a daily dose of the generator takes care of recharging. The variable domestic costs of running the barge are roughly equivalent to a small flat, the main cost being the fuel for heating. Due to three faulty Danfoss electronic heating controllers the heating system would start and stop at will despite careful programming. The heating system would come on at times when the boat was unoccupied and not only for the one hour in the programme this recurring fault consumed an inordinate amount of heating fuel over the winter period. Faults included the loss of display as well as control and I eventually replaced the Danfoss unit with a more reliable and directly interchangeable Siemens electro-mechanical unit and have had no further problems.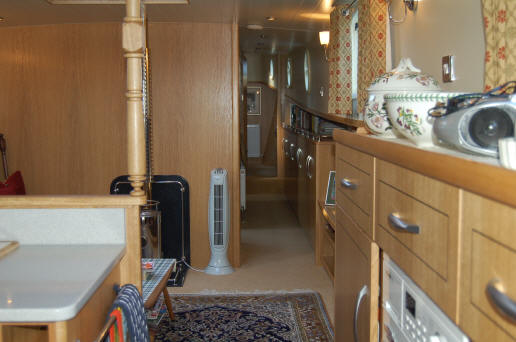 So far we have travelled from our mooring through to Loughborough and back to Barrow-on-Soar a few times but problems with low water in the canalised sections of the Soar Navigation during the late Spring and Summer resulted in a badly damaged propeller that will possibly have been repaired or replaced (expensive either way but maybe an insurance claim) when this article is published. With two friends we also attended a gathering of Dutch Barges at the Trent Sailing Club in early June that allowed us to meet some fellow 'bargees' and to look at various other barges and their fit-outs. I can honestly say that the Piper workmanship withstands favourable comparison with any of the other builders seen to date. This gathering (what is the collective noun for a number of barges?), organised by the Barge Association, is very low key but unfortunately the weather did not co-operate and as we departed on Sunday morning the heavens opened and we had to cruise back in the pouring rain with the crew becoming extremely wet and only the steerer (me) remaining dry in the wheelhouse. Due to time constraints we had to moor outside of the Plough pub at Normanton-on-Soar for a week whilst I travelled back to work in Plymouth.


I have now begun to master the steering characteristics of the barge and can confidently steer the barge into locks and through tight bridge holes on the Soar. At first I lost some paint from the rear handrails (low bridge arch) and a small amount of Comastic but without causing any damage. I am however still too dependent (my opinion) upon the bowthruster and I hope that in time this dependency will reduce. I have recently fitted a Smart Gauge battery monitor to the dedicated bowthruster batteries so that I am aware of the condition of these (vital) batteries at all times as the original Mastervolt equipment only monitors the domestic batteries. As the 24V thruster motor is 7kW its batteries need to be kept in peak condition at all times to avoid at best embarrassment and at worst severe problems. Next year we have a provisional plan is to travel to York with two other barges from the Nottingham area.

The decision about moving aboard permanently has been strengthened after our house was broken into for the second time this year despite taking all reasonable precautions - including the fitting of an alarm system which did work. Unfortunately some PBOC documents were amongst the items that went missing when my briefcase was stolen but nothing affecting the PBOC finances was in the briefcase. Moving aboard the boat will be simplified because we have already begun the process of transferring household goods and personal possessions over the early part of the year. My biggest regret is losing the use of my workshop equipment that I had built up over decades but there are compensations (hopefully) such as a simpler and less stressful lifestyle. We now hope to complete our move aboard by early December.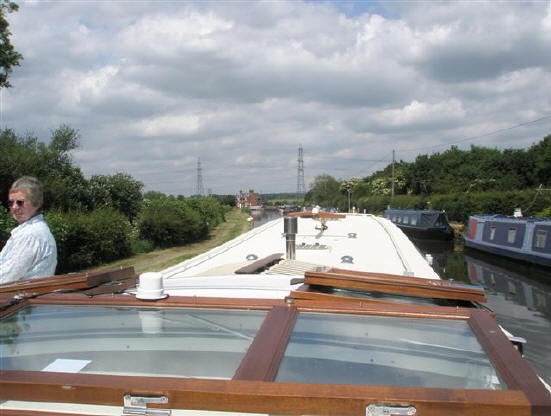 At the end of August we attended the IWA National Festival at Redhill on the River Soar and had a very busy time as we had agreed to allow potential buyers of a Piper barge to see at first hand what could be done with a boat of this size. The three days were very popular and early on we had to introduce an appointments system for viewing as otherwise it would have been unmanageable. There were a lot of positive comments about the layout and the Piper workmanship and we met a number of interesting people but as expected there was also a number of 'tyre kickers' who were not really serious because when asked about their previous experience of boating it turned out that they had none but wanted to 'live on a boat'. We suggested that they should hire first to see if a life afloat was indeed for them as being responsible for all the utility support systems such as water, sewage and power places a great deal more effort on the live-aboard boater.
Whilst at the Festival we were moored next to the steam narrowboat President and its butty Kildare and had quite a good rapport with the crew over the weekend and it was a case of you show me yours and I'll show you mine! Piper Boats were showing a stock narrowboat (Monkjack) and a bespoke wide beam canal boat (Big Banyan) - a first for Piper Boats - whose owners visited us on the Sunday and had the full guided tour before the public viewings. Also moored behind us was the BCN icebreaker Laplander built in 1830 as a horse drawn boat and later converted to steam power – a very interesting vessel. We were also visited by a representative from Waterways World who took a number of photos of the inside of the boat and various technical details.

A major consequence of our attendance at Redhill was that we decided that we had both had enough of travelling along the shallow waters and tight bridges of the Soar Navigation through Loughborough and as a result we have taken out a new mooring at Redhill Marina after 27years of mooring at Barrow-upon-Soar. This decision should allow us to use the deeper waters at the end of the Soar and the Trent, as far as Beeston, without having to lower the wheelhouse which is a big bonus as it allows us all weather cruising. The owners of Redhill Marina have been quite enthusiastic about having KATHE II on one of their moorings. I will provide a further update of our experiences next year after a full winter on the boat.