Fresh Milk Daily?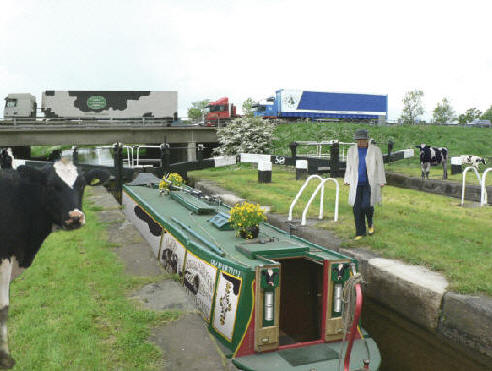 Robert is a Wise Man and astute in his line of business. His maxim of 'Fresh Milk Daily' is well known to motorway travellers, who must have observed his ever increasing herd of Frisian lorries.
After hearing about the way milk was collected for Cadbury's by narrowboats on the waterway network, he has invested in a fleet of his own. The narrowboat Owlet was used briefly as a prototype and renamed Cowlet. Here we can observe the morning collection, at Hassall Green as the milkmaid (Angela) prepares to moove Cowlet down to the next field.
By amazing co-incidence, a Wiseman lorry is passing south along the M6! It hoped that another milk run can be established on the river Churnet soon, followed by the 'Uddersfield. It's over to you for further suggestions, but can we avoid any references to 'red or 'bull', please?
(With special thanks to Michael Minifie.) Picture: Fresh Milk cow picture