Boating Technical Issues - Boat Central Heating Systems

Central heating in boats is a very wide ranging subject and the choice of heating type will depend on a number of factors such as whether you are resident, the installation and running costs, convenience and available space. The choice of fuel for boat CH boilers is usually either gas or liquid fuel. For KATHE II we chose a diesel fired boiler as we hoped to replicate the convenience of our house CH but experience with the Alde boiler on our narrowboat taught us that it would be too expensive to use bottled gas for heating the barge. However the Alde was a very convenient and clean system that provided us with all the hot water and heating that we required over the eight years that we had the narrowboat.

The choice of diesel heating systems is quite wide ranging from the Eberspacher hot air system to the Webasto, Kabola and Harworth Heating oil fired boilers and no doubt many others. We chose the Harworth Heating PJ diesel fired boiler giving an output of 12kW (smaller than a domestic boiler) that is controlled by a conventional domestic style controller and it uses oil firing equipment that is normally used on domestic oil fired boilers so that servicing or repairs can be undertaken by non-specialist boiler service technicians. This boiler comes with or without a casing depending upon whether it is going to be visible or located in a boiler/engine room as the attached photo shows where ours is.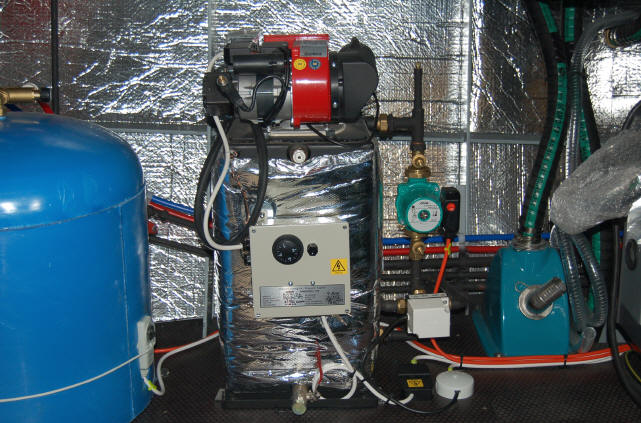 This boiler and its fan is not the quietest of units but it is not too intrusive even in the early hours of the morning when it comes on.

What is our experience with this unit? Over this last extremely cold winter the boiler has been in timed service (twice/day) supplying hot water and heating a combination of eight radiators and heated towel rails. To date the boiler has been absolutely reliable and the manufacturers claim that it will consume around 42litres of oil per week - my own experience confirms that this is about right for the timed usage that we have. The efficiency of this boiler can be judged by the fact that you can place your hand very close to the boiler exhaust outlet as the exhaust temperature is quite low indicating that the boiler is transferring the maximum amount of heat from the furnace to the water jacket. When I come to service the boiler during the Spring I shall be looking closely to see if this low exhaust gas temperature has resulted in the formation of dewpoint acidic compounds that could lead to corrosion within the furnace chamber and exhaust. In the meanwhile we shall enjoy the comfort that the boiler provides and based upon our own experience to date I would suggest that anyone requiring such a boiler should seriously consider this equipment.
Return to Pipeline Index