Down the Bristol Channel
"Will you, won't you, will you, won't you…?" The Mock Turtle's song from "Alice in Wonderland" echoed through our heads last May, as we anticipated possibly being able to cruise down the Bristol Channel.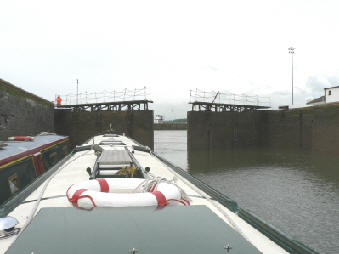 When we contacted our insurance company to discuss the possibility, we were informed that as well as having a Pilot on board, we must be in company with another vessel, in case we had engine failure. As narrowboats rarely travel on the Channel, we weren't sure if another boat would be wanting to do the trip during the week available to us (always assuming that the weather and tide would be appropriate) hence the indecisive phrase going through our minds.
Late in the afternoon on the 15th of May, the Pilot contacted us to say that he'd heard from a boat on its way down the Gloucester & Sharpness canal that would also like to do the passage. He said that tide and weather should be favourable the follo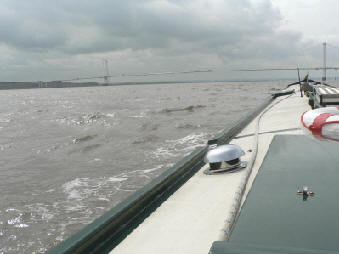 wing day, and we would need to be at Sharpness sea dock by 9.30 the next morning. We ' Duck' taped up the engine vents and blocked the scuppers ready, and were suddenly afraid that we would have do the journey after all!
Next morning we nervously motored Jabez to the waiting pontoon before the swing bridge into the docks, and awaited the arrival of N.B."Longmead". We entered the sea dock and both boats were checked over by the pilots; cratch covers and all vents were inspected and the pilots came on board. Before we knew it, the vast lock had been emptied, the huge gates were opening and we were greeted with a view that put our hearts in our mouths, a large expanse of water with a dim image of land on the far side of the Bristol channel! Our pilot was confident in directing us out into the channel, warning us that the white horses that were all too evident as we began our journey, invariably would worsen as we passed under the old Severn Road bridge. Now too late to turn back!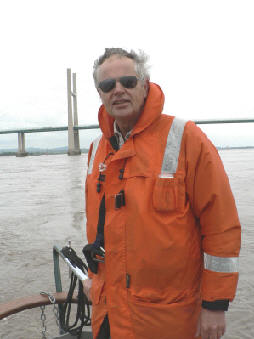 As we began to approach the Bridge, we phoned Patrick and Angela Marks to tell them of our progress. We were amazed to be told that they could see us coming and at that very moment were walking and running across the bridge and hoped to be able to photograph us as we passed underneath – to say that we were astounded by their arrival was an understatement!
You can imagine the exhilaration we felt as we passed under the bridge, frantically waving as we spotted Patrick and Angela! The pilot gave us permission to do a "lap of honour", not in the steep seas as expected, but in water like a millpond, a condition not expected by the pilot.
As Portishead hove into sight we offered our pilot, Ken Higgs, a turn at the helm, whilst we prepared a celebratory drink and bacon sandwiches. Because there isn't enough time to enter the River Avon at Avonmouth on on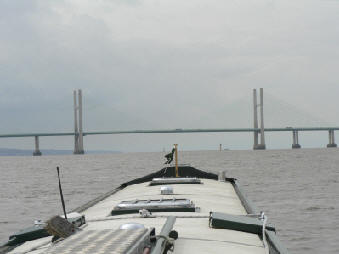 e tide, it is necessary to wait in Portishead Marina for a few hours (or wait outside on a mud bank). We approached the sea lock and were hailed by Angela and Patrick who had driven down to greet us at the marina. We tied up to the rising pontoon, a very relieved Bob left the boat (see cover picture) to report to the harbour-master whilst the lock was filled. We then entered the marina, tied up, said "Goodbye and thank you" to our pilot and waited the 4 hours until the next tide was just beginning to flood and we could begin the next part of our epic voyage – the sun set journey along the river Avon into Bristol
Bob and Janet Wayment. Autumn 2006